World military spending rose 1% last year; first increase since 2011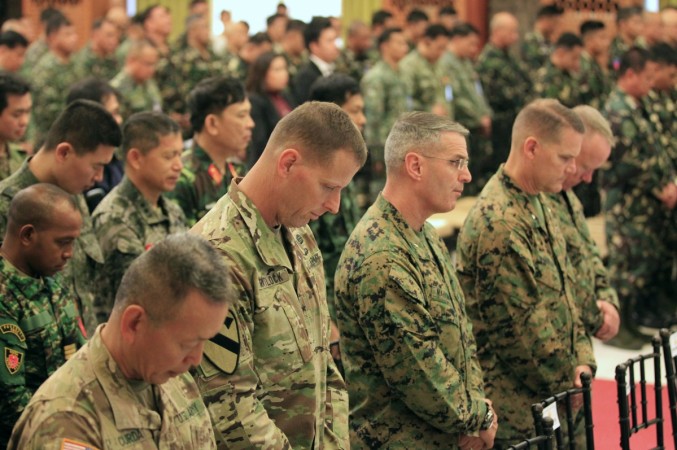 The total world military spending rose by 1 percent in 2015, with spending in the Asia and Oceania region jumping 5.4 percent in the period due to tensions in the region. Military expenditure last year neared $1.7 trillion, according to the latest report released by the Stockholm International Peace Research Institute (SIPRI).
"This is the first increase in world military spending since 2011," SIPRI said. The think-tank also highlighted that just 10 percent of the total military expenditure of 2015 was enough to meet the United Nations' Sustainable Development Goals to end poverty and hunger by 2030.
Citing a 2015 report from the UN Food and Agriculture Organization that estimated eliminating extreme poverty and hunger by 2030 would need an additional $265 billion per year on average based on 2013 prices, SIPRI said it amounts to 9.5-13 percent of the world military spending in 2015, when the estimate is converted to last year's prices.
"This could stir up some debate although we are certainly not expecting a 10 percent cut in military spending at all. That is all about the politics of these countries," Sam Perlo-Freeman, who heads the think-tank's military expenditure project, told the Thomson Reuters Foundation.
The United States' military expenditure continued to be the highest at $596 billion, more than the sum of the next three biggest military spenders — China ($215 billion), Saudi Arabia ($87.2 billion) and Russia ($66.4 billion).
France slipped from its 2014 rank as the 5th highest military spender to the 7th biggest spender in 2015, behind the United Kingdom and India ($51.3 billion).
The report also highlighted crash in oil prices could lead to military spending cuts in 2016.
"On the one hand, spending trends reflect the escalating conflict and tension in many parts of the world; on the other hand, they show a clear break from the oil-fuelled surge in military spending of the past decade. This volatile economic and political situation creates an uncertain picture for the years to come," Perlo-Freeman said.
According to region-wise data, military spending in Asia and Oceania rose by 5.4 percent in 2015, while European military expenditure increased by 1.7 percent last year. Military expenditure fell in Latin America and the Caribbean, as well as in Africa, last year. In Africa, the fall of 5.3 percent in military spending last year comes after "11 continuous years of rising spending." SIPRI said it did not have data from several Middle Eastern nations.