Watch NBA Live: San Antonio Spurs vs Miami Heat live streaming and TV information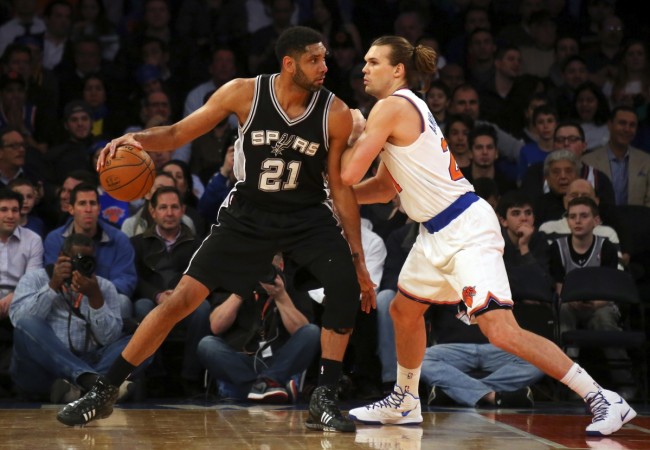 The San Antonio Spurs were mighty pleased after defeating the best team of the ongoing season so far -- Golden State Warriors -- recently, but their joy was short-lived as they followed it up with a loss to Charlotte Hornets. With such disappointing result behind them, Spurs will be eager to get back to their winning ways as they face Miami Heat at AT & T Center Wednesday.
Spurs are a huge force when they play at home. They have not lost a single game at home this season, which makes them huge favourites for their clash against the Heat, who have looked good of late, winning seven of their last ten games. They have defeated teams like Cleveland Cavaliers of late, which should give them the much-needed confidence to take on Spurs.
The Heat have climbed up the standings in the Eastern Conference and are expected to grab the elusive playoff spot as well if they play such quality basketball. They have played some brilliant basketball offensively, scoring 100 plus points consistently of late.
With Spurs dominating at home and Heat enjoying a good run in the NBA, an entertaining game is expected Wednesday. Both teams have their share of stars. If Spurs have Tim Duncan, Tony Parker and Kawhi Leonard, Heat have Dwyane Wade, Hassan Whiteside and Goran Dragic.
Whiteside played a good game in their last victory against the Pelicans. Spurs should not take easy against Whiteside and give him easy shots, which will only help Heat's number 21 come up with a big game as was witnessed by the Pelicans.
''I got hot,'' AP quoted Whiteside as saying. ''I felt like they were kind of relaxed and I was getting a couple wide-open jumpers and I was trying to take advantage of them.''
Talking about the previous game, Spurs, on the other hand, lost to Hornets by three points. Spurs were not expected to be troubled by the Hornets, but they were careless during the game, giving away easy turnovers.
But their star player Duncan is not too worried about their loss and wants to erase the defeat from their minds and move ahead.
''We turned the ball over a little too much - just inconsistency throughout. It was an unfortunate loss, but we will move on from it and hopefully become better from it,'' Duncan said.
The Heat not only have to battle it against the Spurs, but also the home crowd, which supports their team to the hilt.
Where to watch live
San Antonio Spurs vs Miami Heat live NBA gameis scheduled for 8:30 p.m. ET (6 a.m. IST, 8:30 a.m. Philippines) start. There is no live TV coverage in India.
There is no National TV coverage in the US.
Viewers in Philippines can watch San Antonio Spurs vs Miami Heat live NBA game on Basketball TV.
Viewers around the world can watch all the NBA live action by live streaming on NBA Online.