Watch NBA 2015-16 live: Golden State Warriors vs Memphis Grizzlies TV information and live streaming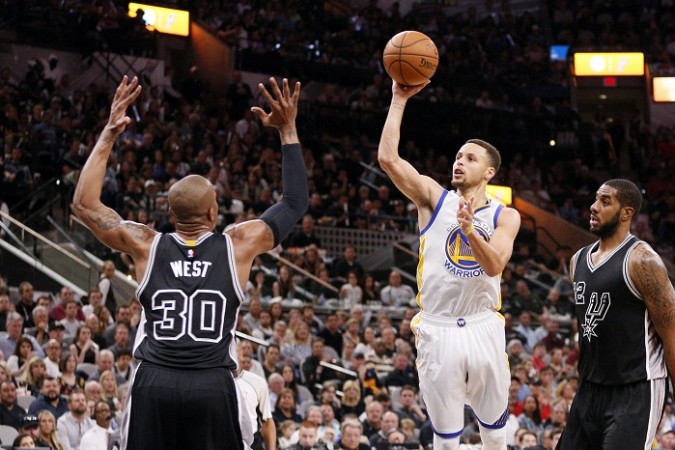 Golden State Warriors might have stuttered on rare occasions, and are on course to break Chicago Bulls 72-10 win-loss regular season record. The Warriors face Memphis Grizzlies in their last regular game of the season at Oracle Arena Wednesday. A victory, which looks probable, for Warriors will help them register their 73rd win of the regular season.
The Warriors were the first team to grab the playoffs berth, and have continued their impressive form throughout the season, winning games after games with ridiculous ease. They got off to a brilliant start, 24-0, and the talk about breaking 1995-96 Bulls' record (72-10) started ever since.
There was pressure on each and every game they played, for very few teams had got off to such a start in the NBA like Warriors did this season. Reigning MVP Stephen Curry and sharp shooter Klay Thompson have been brilliant, averaging 29.9 and 22.2 ppg this season. Besides Curry and Thompson, Draymond Green has stood tall when his team has required him as well.
If the duo fires in their last game of the season, history is going to be made in Oakland. Curry feels it is unbelievable that they have the chancing of breaking Bull's 72-10 record. 
'I knew what it was but you never really thought about it in perspective of anybody chasing it. It was kind of that number that was out there that seemed invincible,'' AP quoted Curry as saying.
''Even at the beginning of this year, even when we started 24-0, it was kind of: 'Well, maybe we can do it. We're going to keep playing every night with the intention of winning as many games as possible,' but it just sounded kind of ludicrous, 72-10, how much good play has to go into it. We're there now, 72-9, and we've got one more chance to beat it.''
Though Warriors are huge favourites to defeat Memphis Grizzlies, the defending champions cannot afford to take it easy despite their opponents enjoying a poor spell of late. They have lost their last three games on a trot, and nine out of their ten games as well.
The Grizzlies might become the villain if they manage to defeat the home team. The Grizzlies will not be bothered with it as they will go all out to defeat Warriors, which will help the visitors go into the playoffs with their heads held high. However, to stop Warriors from breaking the record, Grizzlies needs to step up their game.
The venue is set to turn yellow for the last regular game of the season before both the team head into the playoffs for an intriguing battle. Warriors will head into the playoffs as favourites, irrespective of whether they break Bulls' record or not.
Where to watch live
Golden State Warriors vs Memphis Grizzlies live NBA game is scheduled for 10:30 pm ET (8 a.m. IST, 2:30 a.m GMT, 10:30 a.m. Philippines) start with live TV coverage in India on Sony ESPN while the live streaming is available on Sonyliv.
US viewers can watch the Golden State Warriors vs Memphis Grizzlies live NBA game on ESPN and online on WATCH ESPN.
UK viewers can watch the Golden State Warriors vs Memphis Grizzlies on BT Sport 1 with live streaming on Watch BT Sport.
Viewers in Philippines can watch the game live on Fox Sports.