"Vampire Diary", "Third Wife" major winners of HAF Awards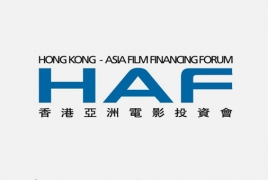 March 17, 2016 - 13:49 AMT
PanARMENIAN.Net - Hong Kong film project "Vampire Diary" and Vietnam's "The Third Wife" were major winners of the HAF Awards at the Hong Kong-Asia Film Financing Forum, Variety reports.
"Vampire Diary" is a $1 million comedy directed by Hong Kong scriptwriter-turned-director Anthony Yan and produced by veteran TV actor Ha Yu. It tells the story of a school girl and her two little friends on an adventure to bring a beautiful thousand-year-old female vampire back to her ancient home. It won the Hong Kong project category.
"The Third Wife," which won the non-Hong Kong project award, is about the struggle of a young girl wedded to a much older man in an arranged marriage in late 19th-century rural Vietnam. It also bagged the White Light Post-Production Award.
Two other Hong Kong-related projects also came out as winners: Paul Sze Pak-lam's "Hypnotize the Jury," a Hong Kong production that scooped the Network of Asian Fantastic Films Award, and "Border Bride," a Hong Kong-China co-production directed by Wang Bing, which took the Fushan Documentary Award and also the G2D Post Production Award.
Other winners were "Dying to Survive," by China's Wen Muye, which won the iQIYI special award; "Brothers," by Malaysia's Jong Yu, which took home the HAF/Fox Chinese Film Development Award; "Heaving Raving," by Taiwan's Hsieh Pei-ju, winner of the HAF Script Development Fund; "Inking a Last Masterpiece," by Japan's Usuke Uchijima, winner of the Wouter Barendrecht Award; and "When the Waves Are Gone" by the Philippines' Lav Diaz, which earned the Paris Coproduction Village Award.
This year, three new partners joined HAF to give out awards: the Wanda Film Award, which went to "Lieutenant Yi" by Taiwan actress-turned-director Rene Liu; the Attention Film Award, won by "Dying to Survive"; and the Wutianming Post-Production Award, which went to "Lhamo and Skalbe" by Tibetan director Sonthar Gyal.
In the 14th edition of the project market, HAF presented 31 film projects in search of finance and production partners. More than 350 submissions were received this year, a record number.