Updated: One of four accused of human trafficking faints in court as bail is denied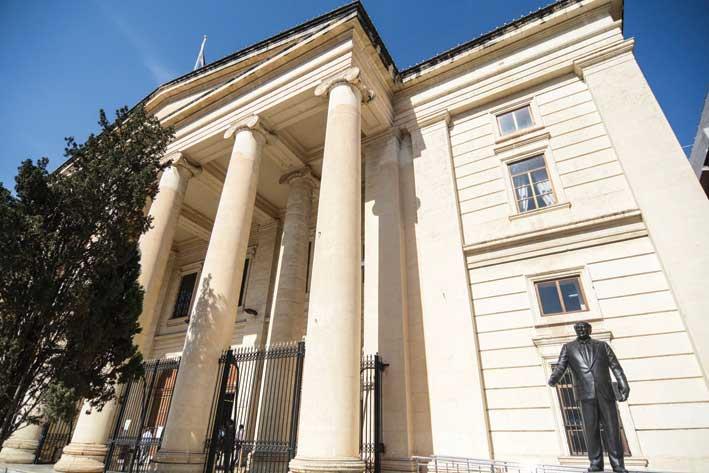 The directors of Mr Clean – a father and his three children – were arraigned today on human trafficking charges.
The case, which is reminiscent of the ongoing Leisure Clothing saga, revolves around Filipino workers who signed contracts before leaving their country but were given different conditions on arrival.
The accused are Joseph Degiorgio, 71, from Balzan, Paul Degorgio, 47, from Lija, Christopher Degorgio, 42, from Naxxar and Josianne Bugeja Degorgio, 34, from Balzan. 
Joseph Degiorgio felt unwell when the court denied bail at the end of the sitting. An ambulance was called.
The four stand charged, as officials of MCCS Co. Ltd, The Maltese Falcon Recruitment Services, Servizi Malta Ltd, Melita Health Services of the human trafficking of 31 Filipino nationals, of incorporating or financing a criminal organisation, forming part of that organisation and misappropriation.
Police Inspector Joseph Busuttil, prosecuting, said the accused had been under surveillance for several months.
He said several Filipinos had paid around €5,000 (around three years' wages) to travel to Malta for work. But upon arrival, their contracts were "torn up in their faces" and they were forced to sign new contracts, with different conditions, or else be sent back to their country.
The Inspector also said the workers were being kept in inadequate conditions – in some cases up to 12 people lived in the same room.
Inspector Busuttil said the Filipinos came to Malta to work as cleaners. They were engaged to work with Mr Clean but any extra hours worked were paid for in cash by JD Contractors, which belongs to Mr Degorgio senior. "The company is not registered and it was not declaring these part-time payments. These people thought that Mr Degorgio was paying their tax and social security but he was keeping the money for himself."
The Filipino recruitment agency had also promised free food and accommodation in the initial contract, but the Maltese company did not honour this agreement.  Defence lawyer Joe Giglio, appearing for Mrs Bugeja Degorgio, said the Maltese company was not bound to offer such conditions. The only reason why the food and accommodation clause was included in the Filipino contract was because that was a condition required by the Filipino authorities to allow nationals to travel for work. The agency, he said, was aware that no free food or accommodation would be given in Malta.
Lawyer Franco Debono, appearing for the three men, said objected to the Inspector's statement about overcrowded rooms, insisting that the 'room' was actually a 250 square meter "hall." Dr Debono also argued that the accused should not have been arraigned under arrest, since they were cooperating and a magisterial inquiry was not yet concluded. The Inspector rebutted by claiming that the accused had tried to contact the witnesses, despite numerous warnings.
One of the alleged victims, Filipino Beverly Martinez, took the witness stand. There was some commotion in the courtroom as the prosecution initially wanted the woman to testify by videoconferencing. Magistrate Consuelo Scerri Herrera denied the request. 
Ms Martinez said she came to Malta in November 2013. She paid 250,000 pesos to the Filipino recruitment agency. The amount covered one month's accommodation, the flight and a processing fee.
Upon arrival to Malta she reported to the Mr Clean offices in Balzan, where a new contract was issued. She said she was not told what her working conditions were and could not say if these were different from those promised in the Philippines. Initially she lived in a Sliema house with four other Filipinos. 
The witness said she worked shifts in different places, including a house, ST Microelectronics, Portman International, the Pembroke state school and Metropol apartments. She was paid a salary, in cheque, by Mr Clean. Any extra hours were paid in cash by JD Contractors. She was never given any receipts for the extra hours. Ms Martinez said she earned between €600 and €800 a month, depending on the number of hours worked. The rate of pay was €4.20 per hour, including on Sundays and public holidays. 
She has since moved into a Fleur-de-lys apartment, where she lives with three other people. She pays €130 a month in rent to the landlord. She also buys her own food. 
The witness said Mr Degorgio (senior) treated her well.  Josette, who is her supervisor, sometimes got angry and told her to punch out and leave.
The woman said she is still uncertain of what her working conditions are. She said she sometimes had to work extra hours, despite being tired, and would have to sign a declaration giving her consent.
The woman said she had not given any money to Mr Clean before coming to Malta. The witness said she came to Malta to earn a better wage as for the same job in the Philippines she could be paid 400 pesos per month equivalent to €7.60 per month.
Another witness, Jeffrey Jerard Baet, said he came to Malta in February 2015. He spoke to the Filipino agency, which told him he would be working in Malta as a cleaner. He was also given two contracts – one in the Philippines and one in Malta. He was not told what his hourly rate would be.  He was taken to a flat in Malta where he lived with 15 other Filipinos. There were 3 to 4 people sleeping in every bedroom. He would work shifts at the airport and Mater Dei hospital, and later started working at Mr Degorgio's office in Balzan. Shifts were between 8 and 10 hours long. He also said that he was paid a flat rate of €4.20 per hour, with his salary being paid by Mr Clean and extra hours by JD contractors. The witness said he did not know the difference between the two companies. He said he worked in Mater Dei through Servizi Malta, a partner company.
Mr Baet said he had a good relationship with Mr Degorgio Sr but said Josette would often shout at the workers. Cross-examined, the witness said the Filipino agency had told him that food would not be free but medication would be covered by medical insurance.  "Are you aware that the Filipino agent promised them conditions that would be superior to those enjoyed by Maltese workers? Dr Debono asked.
The witness claimed that on one occasion, he had three euros deduction as a donation to L-Istrina. This was done without his authorisation, he said. Dr Giglio objected, saying the witness had signed a form. 
He also had Eur168 deducted from his salary 'in case he went back to the Philippines.' He said he signed this paper because if he had not he would not have been allowed to send money to his family.
During bail submissions, Dr Debono, said the accused had always cooperated when called by the police. He said there was no doubt that they would adhere to any conditions laid down by the court. The court was also informed that the witnesses were quitting their job and would have no further link with the companies. 
Inspector Busuttil objected, saying the police had already trusted the accused and only placed them under police bail but they had approached the witnesses. He requested the court to freeze their assets and those of the company. Inspector John Spiteri said there were a number of company employees who still had to give evidence.
Dr Debono said it was unacceptable that the inquiry started 10 days ago and not all witnesses had been spoken to. The prosecution said the inquiry was being led by a magistrate, not the police.
Magistrate Consuelo Scerri Herrera said that at this stage the bail request could not be accepted. The prosecution, however, had to present the remaining witnesses by the next sitting, on Monday morning.
The court will also decide on the amount of assets to be frozen (not including the amount that need to be paid in wages) next week. 
Lawyer Joe Giglio appeared for Josianne Bugeja. Lawyers Marion Camilleri, Franco Debono, Amadeus Cachia, are defence counsel to the other accused. Lara Dimitrijevic and Ann Maria Bisazza are appearing parte civile. Inspectors Joseph Buttigieg and John Spiteri are prosecuting.