U.S. reports new Chinese activity around S. China Sea shoal: Reuters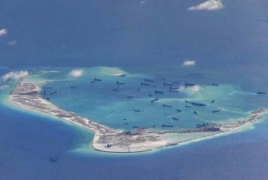 March 18, 2016 - 16:12 AMT
PanARMENIAN.Net - The United States has seen Chinese activity around a reef China seized from the Philippines nearly four years ago that could be a precursor to more land reclamation in the disputed South China Sea, the U.S. Navy chief said on Thursday, March 17, according to Reuters.
The head of U.S. naval operations, Admiral John Richardson, expressed concern that an international court ruling expected in coming weeks on a case brought by the Philippines against China over its South China Sea claims could be a trigger for Beijing to declare an exclusion zone in the busy trade route.
Richardson told Reuters the United States was weighing responses to such a move.
China claims most of the South China Sea, through which more than $5 trillion in global trade passes every year. Vietnam, Malaysia, Brunei, the Philippines and Taiwan have rival claims.
Richardson said the U.S. military had seen Chinese activity around Scarborough Shoal in the northern part of the Spratly archipelago, about 200 km west of the Philippine base of Subic Bay.
"I think we see some surface ship activity and those sorts of things, survey type of activity, going on. That's an area of concern ... a next possible area of reclamation," he said.
Richardson said it was unclear if the activity near the reef, which China seized in 2012, was related to the pending arbitration decision.
Asked about Richardson's statement, Lu Kang, a spokesman for China's Ministry of Foreign Affairs, said it was hypocritical for the United States to criticize China for militarizing the region when it carries out its own naval patrols there. "This is really laughable and preposterous," he said, according to Reuters.