John Key downplays Chinese media warning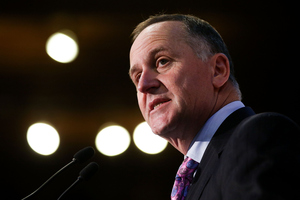 Prime Minister John Key is downplaying warnings in Chinese state-run media not to raise the South China Seas if he wants progress on trade, saying New Zealand's position has not changed and he takes such messages with "a grain of salt."
Mr Key has arrived in China for meetings with China's President Xi Jinping and Premier Li Keqiang.
Xinhua and another media outlet in China have run pieces saying New Zealand has implicitly criticised China by stepping up its calls against militarisation and reclamations in the South China Seas.
Mr Key said he did not believe it would derail his attempts for the renegotiation of the free trade agreement signed in 2008. "I take it all with a grain of salt. There are many opinions out there but New Zealand's position on the South China Seas hasn't changed. We can't ignore the situation in the South China Sea but nor will we have any surprises for the Chinese leadership."
He said overall New Zealand's relationship with China was very strong and it was an important strategic relationship for New Zealand. His primary goal is to push ahead re-negotiations of the free trade agreement.
"If we don't do that we will be stuck with the safeguards we've got out to 2022 or 2024 and that has a financial impact and a competitiveness impact, particularly in the dairy sector."
Mr Key said he was hopeful of leaving with an agreement to start the new round of negotiations. "Sometimes these things don't happen immediately but this is my sixth visit to China and one thing we do know about China is that face time matters."
He said New Zealand was not taking sides on the territorial dispute but wanted the parties to reach a peaceful resolution between themselves. He was hopeful that would be achieved, saying China had a long term interest in a peaceful resolution because regional instability would not help its economic development programme.
He said it would almost certainly get raised, and the issue had been more prominent lately partly because of the looming judgement in the arbitration case lodged by the Philippines at the Permanent Court of Arbitration at the Hague.
Mr Key said the issue was important for New Zealand because it was a key waterway for New Zealand goods but New Zealand's approach was "a little bit less aggressive"than some other countries.