Equality chairman admits failing to declare job at dubious college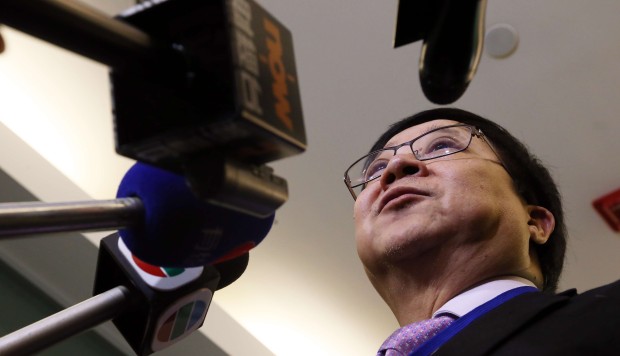 The new chairman of Hong Kong's equality watchdog admitted on Tuesday that he had forgotten to declare a job at a scandal-hit institution to his former employer.
The controversy broke on Monday, the same day Professor Alfred Chan Cheung-ming took over as the chairman of the Equal Opportunities Commission.
He was accused of lying after saying he had declared the job to his former employer, Lingnan University, and that he had not received any payment for his services. Both claims were later countered by Lingnan and the commission.
Lingnan said it had not received any declaration from Chan about his engagement in 2013 as a doctoral thesis supervisor for a student at Tarlac State University in the Philippines.
A spokesman for the commission,who apologised on behalf of Chan, said Chan had received a payment of HK$8,000 for the service, which he had declared to the Inland Revenue Department.
The spokesman said Chan was invited to supervise Anna Tang King-yung, a district councillor of the pro-Beijing Democratic Alliance for the Betterment and Progress of Hong Kong, by Lifelong College, which was helping Tang with her doctoral degree at Tarlac. Lifelong College had been accused of helping its clients fast-track their diplomas through plagiarism and fake documents.
Apologising again on Tuesday, Chan, who was chair professor of social gerontology at Lingnan before joining the commission, said he gave "confusing information" due to a fuzzy memory because the event happened in 2013.
He added he had forgotten to make the relevant declarations because there were several other items he had to declare at that time.
"In the future, I will handle my speech more carefully..." said Chan. "I also want to reiterate that [the event] has no direct connection with my work [at the commission]. I hope I can now return to my job."
A Lingnan spokesman said the university would not take follow-up action regarding Chan's failure of declaration because he had left the university and apologised. He said the amount of payment Chan received had not reached the level where a staff member had to divide the payment with the university, so the university had not lost any potential income. He said the university had no cooperation with Lifelong in any way.
Two commission board members said they accepted Chan's explanation.
One of them, health services sector legislator Joseph Lee Kok-long, said the controversy was not related to Chan's new position and that his explanation had clarified their remaining questions. Lee, who had worked with Chan on various occasions, said he believed in Chan's integrity.
Dr Maggie Koong May-kay, head of Victoria Shanghai Academy, said she often forgot about payments for her services at other organisations. She said it was normal for academics, who often only keep count of their research output, to remember one-off payments.
But former secretary for the civil service Joseph Wong Wing-ping said the controversy had cast doubt over Chan's credibility, making him unsuitable for a public service post. He said Chan, who had formerly been criticised for referring to homosexuals with a derogatory term, would only bring more questions over the commission's work if he did not resign.