Competition is good for Guam-Manila airlines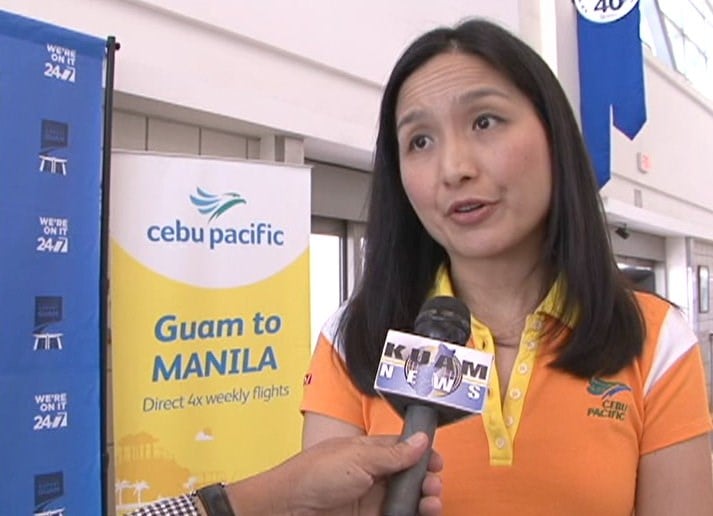 And then there were three.  Cebu Pacific Airlines is now the third carrier to serve the Guam-Manila route, a route that united and Philippine Airlines have been flying for many years.  But Cebu Pacific vice president for marketing Candice Iyog says there's plenty of room for another airline, and she believes the healthy competition will not only result in lower fares, but it will spur even more travel between the two destinations.
"First and foremost, because it is an underserved market. There is a substantial Filipino population here and so we go to where the Filipinos are around the world, that's one. and second because it is a good first entry into a US market. So that we can set up our operations and prepare for the requirements of flying to a US territory," she explained. Iyog says while Guam is an important stepping stone to other US destinations, Cebu Pacific is not looking past it toward the other routes. 
To the contrary, she says, the relatively short flight time and the strong historical and cultural ties between the Guam and the Philippines make for a promising business, saying, "I think what's important is that we focus on what we have today. Fill the flights consistently, get people to know that there is a service now, more affordable service between Guam and Manila and always look at other opportunities in other markets to serve and stimulate."
The low-cost carrier was launched in 1996, and has grown into the Philippines' largest airline.  It 's parent company is JG Summit Holdings, controlled by Philippine billionaire John Gokongwei.  His son Lance is the airline's president and CEO, and said, "We started out twenty years ago, in fact we celebrated our twentieth anniversary last week. We started out as purely a domestic carrier, and today we have 58 aircraft. We fly to 30 countries, 30 destinations and operate 98 routes. And its good because the Filipino traveler is also an emerging traveler not just in the Philippines but in different parts of the world, and so we're very happy to be able to serve that market."
Iyog says Cebu Pacific is eying further expansion,  and will be adding even more equipment in the next few years, adding, "We take delivery of three this year, another three next year and then we have a 321 Neos next year in 2017, and so we'll continue to expand our operations not just in the region but in the middle east and Australia and hopefully more destinations in the US."
Iyog says the Philippine government has been working to raise the country's profile as a leading tourist destination. She says Cebu Pacific has joined in to help promote repeat visitors, saying, "We are working closely with the Philippine department of tourism because we want to be able to promote the Philippines. Not just to Filipinos but to a lot of the international travelers because the Philippines is really a tourist destination that everyone should really visit, so we're pushing the Philippines as a, especially to a market that's been to the Philippines in the past, we're working with the Department of Tourism to push their campaign to visit the Philippines again."
Cebu Pacific is also promoting outbound travel for a growing Philippine middle class. Guam's status as a nearby u-s territory, with American products, makes it an attractive short haul vacation and shopping destination. But US visa requirements can make travel here more difficult.  Guam delegate Madeleine Bordallo has been advocating for a Guam only visa waiver program for Filipino citizens, "We're not waiting for that though, we're pushing whatever we can, but that will definitely help the market become more accessible to more Filipinos because it will be one less barrier to entry."