China, Vietnam vow to boost military ties amid strained relations over South China Sea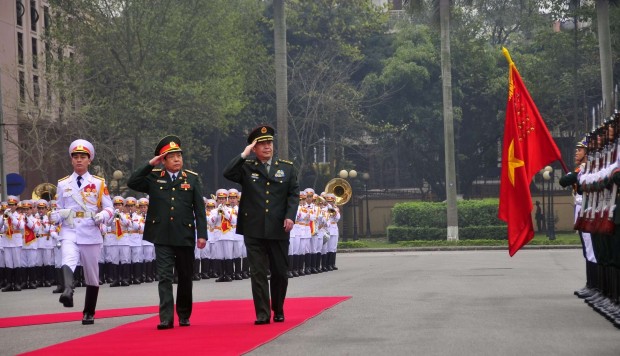 China and Vietnam have pledged to increase military ties to avoid conflict amid tensions between the two nations over territorial claims in the South China Sea.
The pledge was made on Sunday during a three-day visit to Vietnam by China's Defence Minister Chang Wanquan
Chang and his Vietnamese counterpart Phùng Quang Thanh agreed that both nations' militaries act with restraint to avoid conflict, Vietnamese media reported.
Two Chinese ships intercepted a Vietnamese fishing boat in disputed waters near the Spratly Islands in the South China Sea earlier in March, according to media reports in Vietnam.
Eleven men claiming to be marine police boarded the boat and confiscated its catch, the reports said.
Vietnam's foreign ministry spokesman said the boat had been "robbed" and urged China to investigate and offer compensation.
Vietnamese Communist Party General Secretary Nguyen Phu Trong said during talks on Sunday that Vietnam wanted to co-operate with China to sustain peace and stability on the basis of respecting mutual interests and abiding by internal law.
He said neighbouring nations should continue to organise high-level meetings, carry out joint patrols and get their militaries to liaise closely to further strengthen regional ties.
China has created unease among neighbouring countries by carrying out massive reclamation work on islands in disputed areas of the South China Sea.
Several countries lay claim to parts of its waters, including Vietnam and the Philippines.