Bahrainis close in on main draw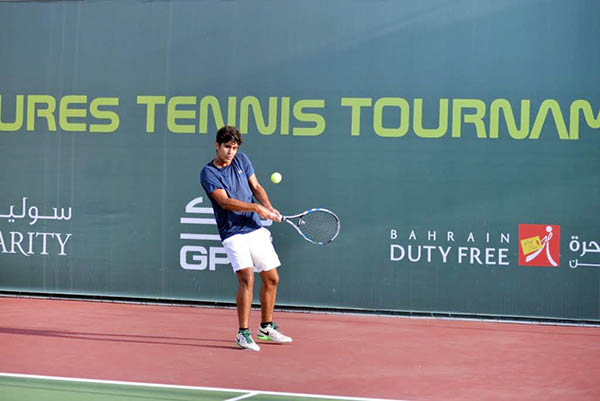 FIVE Bahrainis took a step closer to qualifying for the main draw of the Bahrain ITF Futures Tennis Tournament to be held at Bahrain Tennis Club courts in Juffair from tomorrow.
Hamad Abdul A'al and Roy Boutagy staged brilliant rallies to move into the final round of qualifiers.
Both came from a set down to beat their opponents. Hamad got past Ronaldo Taal Anacin of the Philippines 3-6, 6-4, 6-4 while Roy had a slightly easier time in the last two sets in beating Abhishek Konar of India 5-7, 6-1, 6-1.
Yousif Dhaif, on the other hand, was the most comfortable winner as he routed Saudi Arabia's Saleh Al Matar 6-0, 6-0.
Two other Bahrainis to move into the final of the qualifiers were Ali Dawani and Kareem Abdulnabi. The two got past their compatriots in all-Bahrani clashes.
Kareem was too good for Hasan Al Qattan 6-0, 6-0 while Ali lost just one game in the second set in sailing past Ali Al Asfoor.
The winners of today's eight final round of qualifiers make it to the main draw.
Clash
Roy takes on Yousif in an all-Bahrain clash at 10.30am while Kareem meets Thomas Linge of Norway at 4pm. Hamad meets Aditya Deswal of India and Ali confronts Mateusz Tercznski of Poland, both at 4pm.
The tournament carries a cash prize of BD10,000 and is being held under the patronage of Representative of His Majesty for Charity Works and Youth Affairs, chairman of Supreme Council for Youth and Sports and president of Bahrain Olympic Committee Shaikh Nasser bin Hamad Al Khalifa.
The event is sponsored by Bahrain Duty Free, Solidarity and GPIC.
Other results:
Rahul Jaideep (Ind) bt Jerico Bohol 6-2, 6-4; Sharmal Dissanayake (Sri) bt Dmytro Ishtuganov (Ukr) 7-5, 6-3; Adiyta Deswal (Ind) bt Daniel Czepielewski (Ger) 6-1, 3-6, 6-3; Gregory Howe (GBR) bt Salman Hasan (Pak) 6-0, 6-2; Mateusz Terczynski (Pol) bt Pierre Durali (Fra) 6-2, 6-3; Mohammed Abdel-Aziz (Egy) bt Rashein Sameul (Ind) 7-6(3), 7-5. Bastiaan Loooohuis (Ned) bt Mohammed Essam Abdul A'al (Brn) 6-3, 6-2; Thomas LInge (Nor) bt Yusuf Qaed (Brn) 6-0, 6-1; Jugal Boruah (Ind) bt Ammar Al Shaikh (Brn) 6-0, 6-0.